Do you want to subscribe WordPress users to your CRM and email marketing list after registration? 
Email marketing is a powerful tool for businesses to engage with their audience, deliver targeted campaigns, and drive conversions. If you're running a WordPress website and want to streamline your email marketing efforts, the FuseWP plugin offers an excellent solution.
FuseWP seamlessly integrates with WordPress, allowing you to automatically subscribe users to your email marketing lists after they register on your website. This automation eliminates the need for manual processes, saving you time and ensuring that your mailing lists are always up to date.
In this article, I will walk you through how to integrate your WordPress site with your CRM and email marketing software using the FuseWP plugin so you can sync WordPress users with your email list.
Connecting your Email Marketing Software
FuseWP lets you connect your WordPress site to various email marketing services, including Mailchimp, ActiveCampaign, Constant Contact, Campaign Monitor, AWeber, Brevo (Sendinblue), HubSpot, Sendy.
In this article, we will be using Mailchimp for demonstration. But first, ensure you have the FuseWP plugin installed and activated on your site.
To connect FuseWP to your Mailchimp account, go to FuseWP >> Settings.
Click the "Configure" button beneath the Mailchimp icon to reveal the modal settings.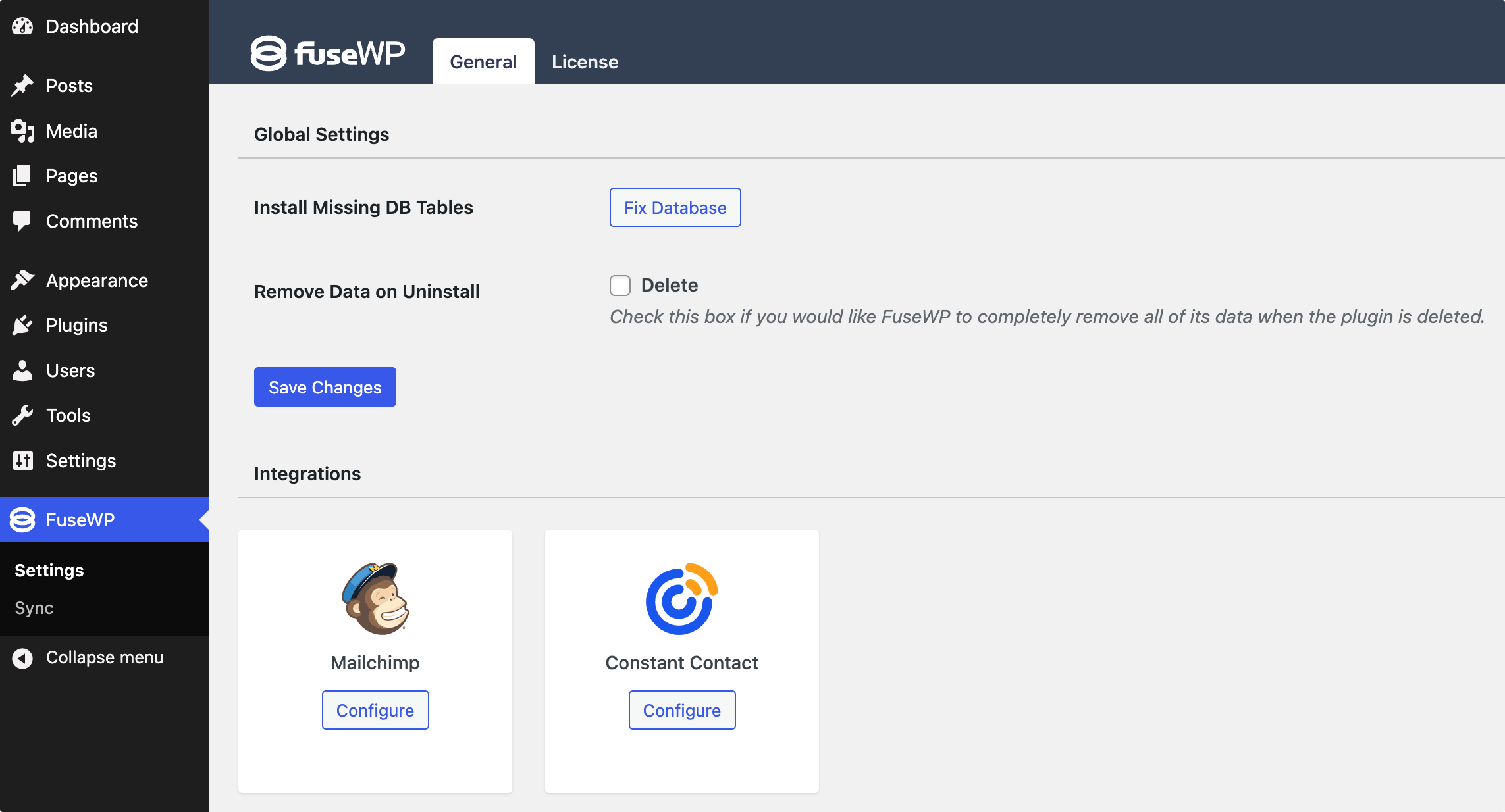 On the configuration modal, click on "Connect to Mailchimp".

You will be redirected to the authorization page, where you'll be prompted to log in to your account if you aren't already.
Next, you need to grant FuseWP access to your account to authorize the connection.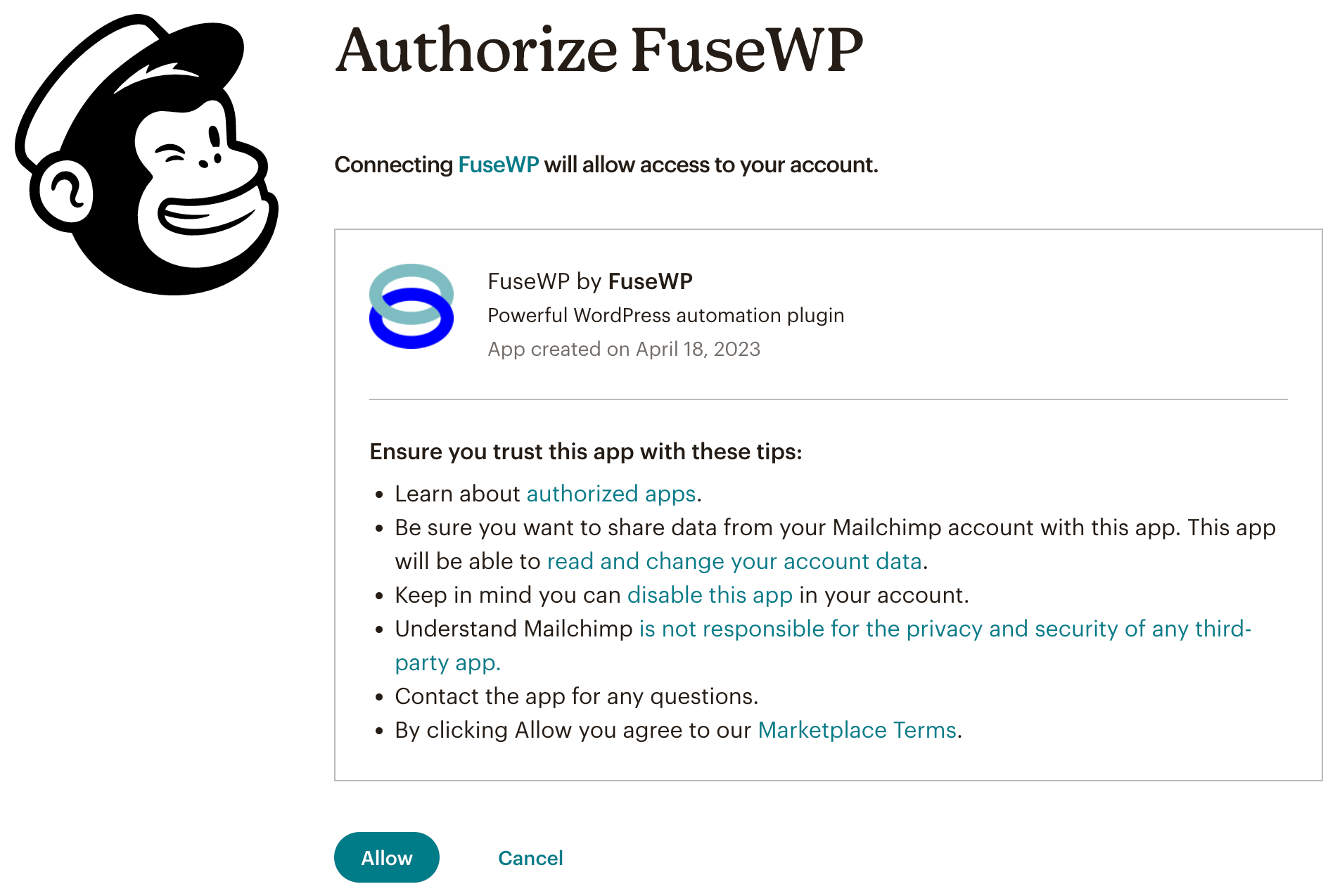 After connecting your Mailchimp account, you will be redirected to the FuseWP integrations settings page.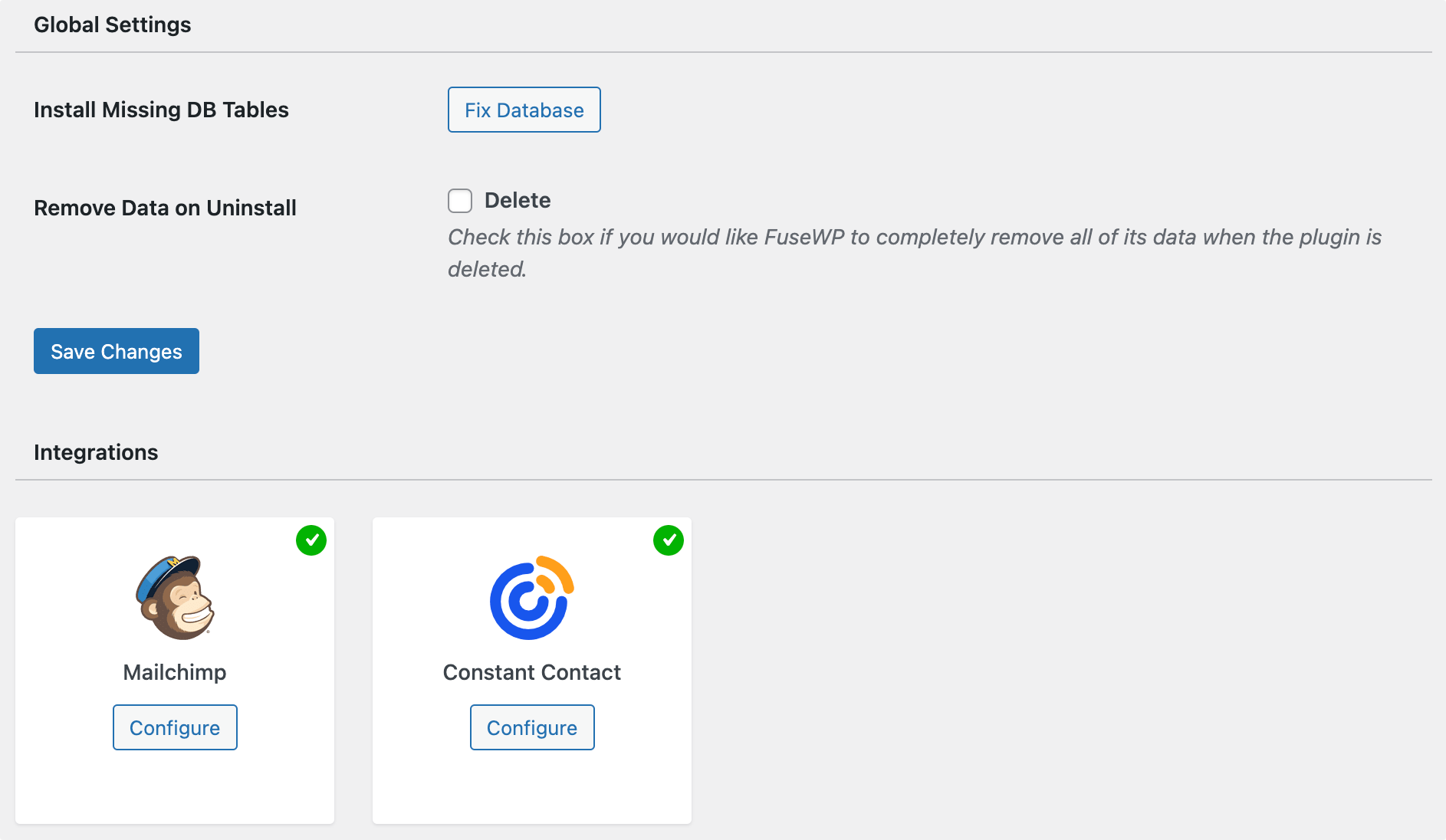 Subscribing WordPress Users to Your Email List 
After successfully connecting your Mailchimp account, you should create User Sync rules that synchronize your WordPress users to your email marketing service.
To do this, go to FuseWP >> User Sync and click the Add New button.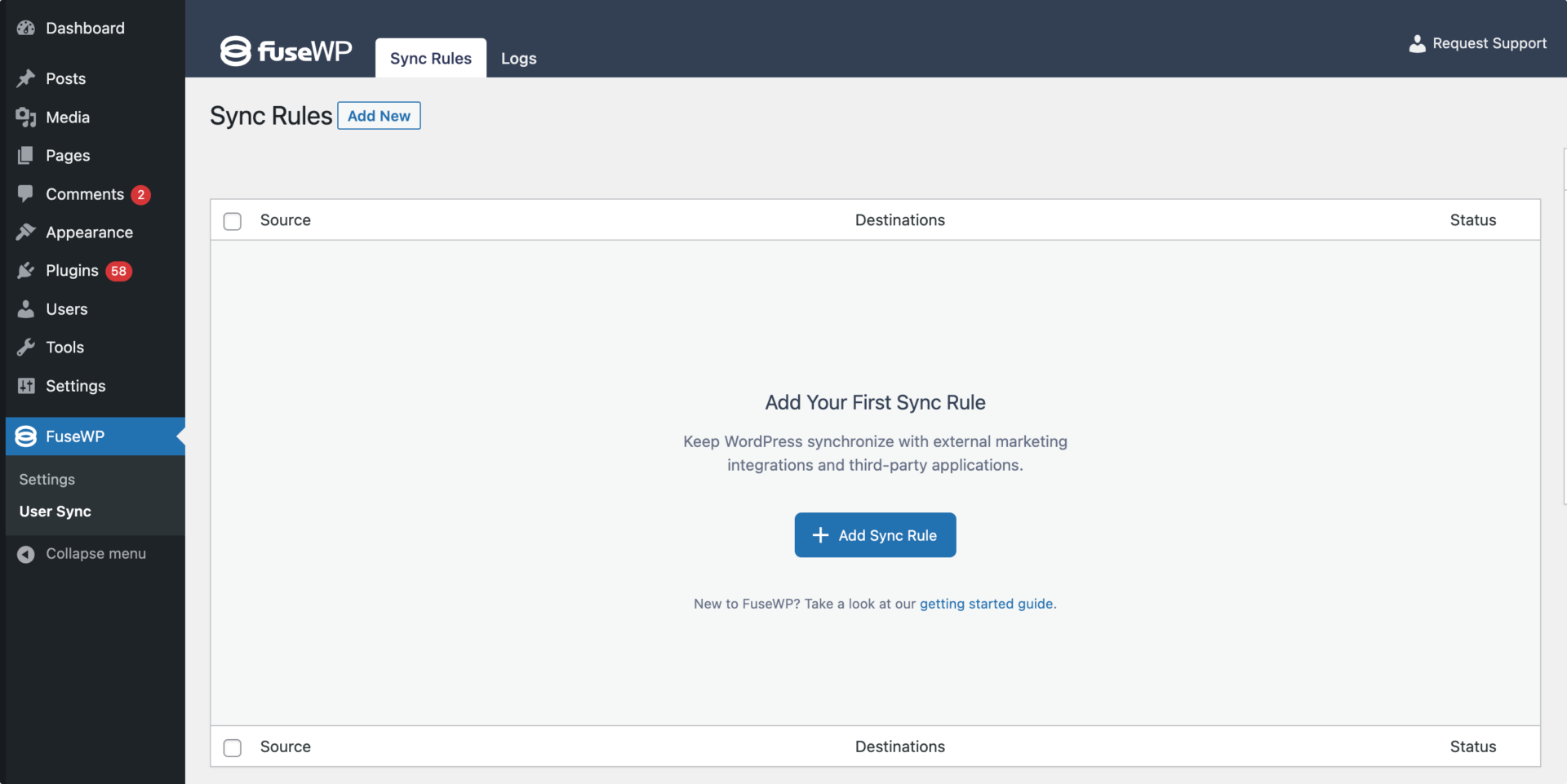 On the page to add user sync rules, select "User Roles" as the source.

Next, click on the Add Destination button and select the role of the users registering you want to sync to your email list. After that, you should choose the integration (Mailchimp, in our case) and the specific email list you want the users to be added to.
Depending on the number of roles and email lists you want to sync, this process can be repeated as often as possible.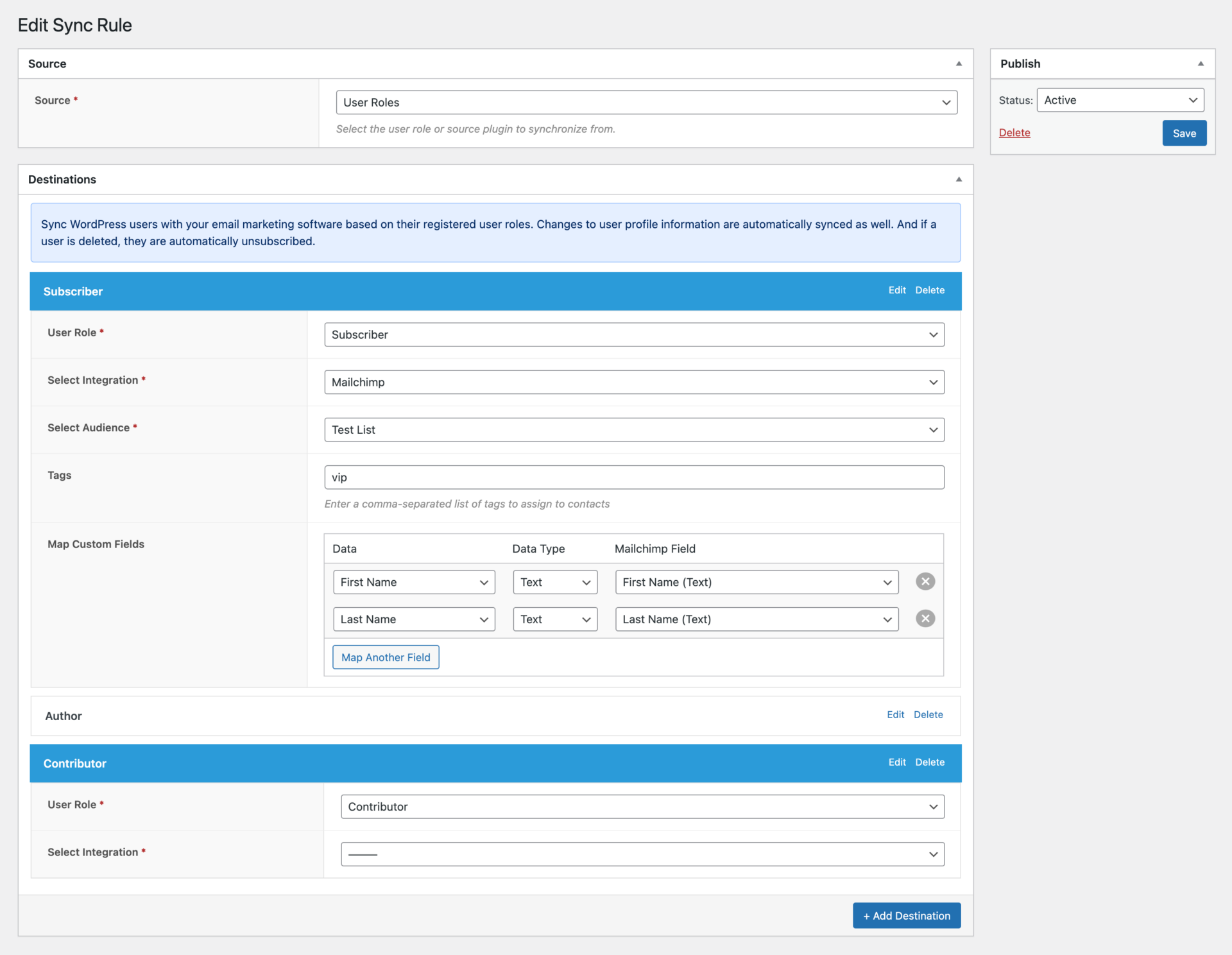 If your email marketing software or CRM supports custom field mapping and tagging, you can map user data to your custom fields and specify tags to assign to the users.
Double Optin Setting
Double opt-in support ensures compliance with General Data Protection Regulation (GDPR) regulations. With double opt-in, users are required to confirm their subscription. This extra step provides clear evidence of explicit consent, meeting GDPR's data collection and processing requirement.
FuseWP supports enabling the double opt-in setting for Mailchimp. To do that, navigate to FuseWP >> Settings.
Under the Mailchimp settings section, you can enable the option so users must confirm their subscription before being added to your list.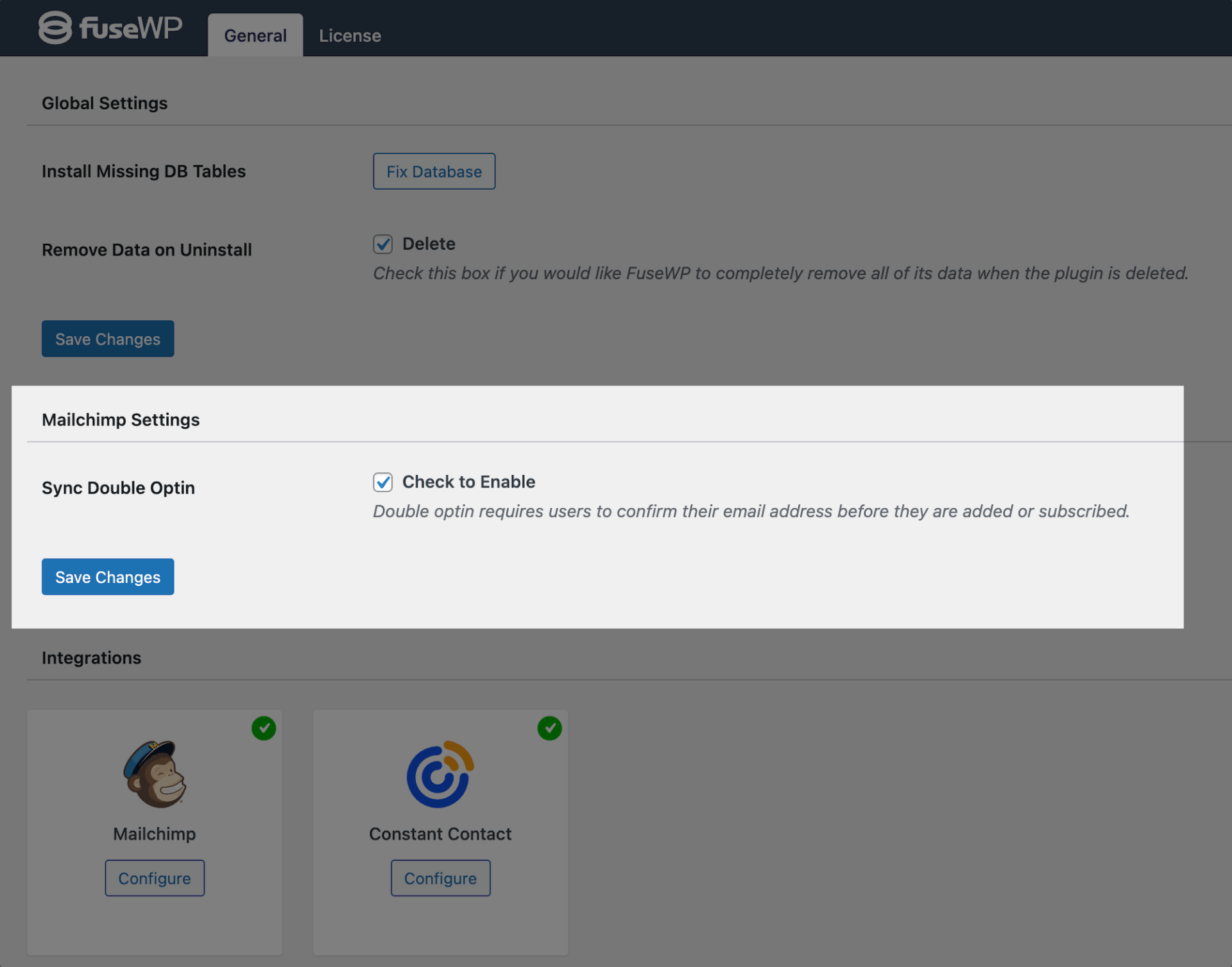 Conclusion
Following these simple steps, you can seamlessly subscribe users to your email marketing lists when they register on your WordPress website using the FuseWP plugin. This automation saves you time, ensures accurate and up-to-date lists, and enables targeted email campaigns to engage with your audience effectively.
Embrace the power of the FuseWP plugin and elevate your email marketing strategy today!